Parole de dirigeant à l'international
Les clés d'une réussite business en Russie
Arnaud Trousset, DG de RILOS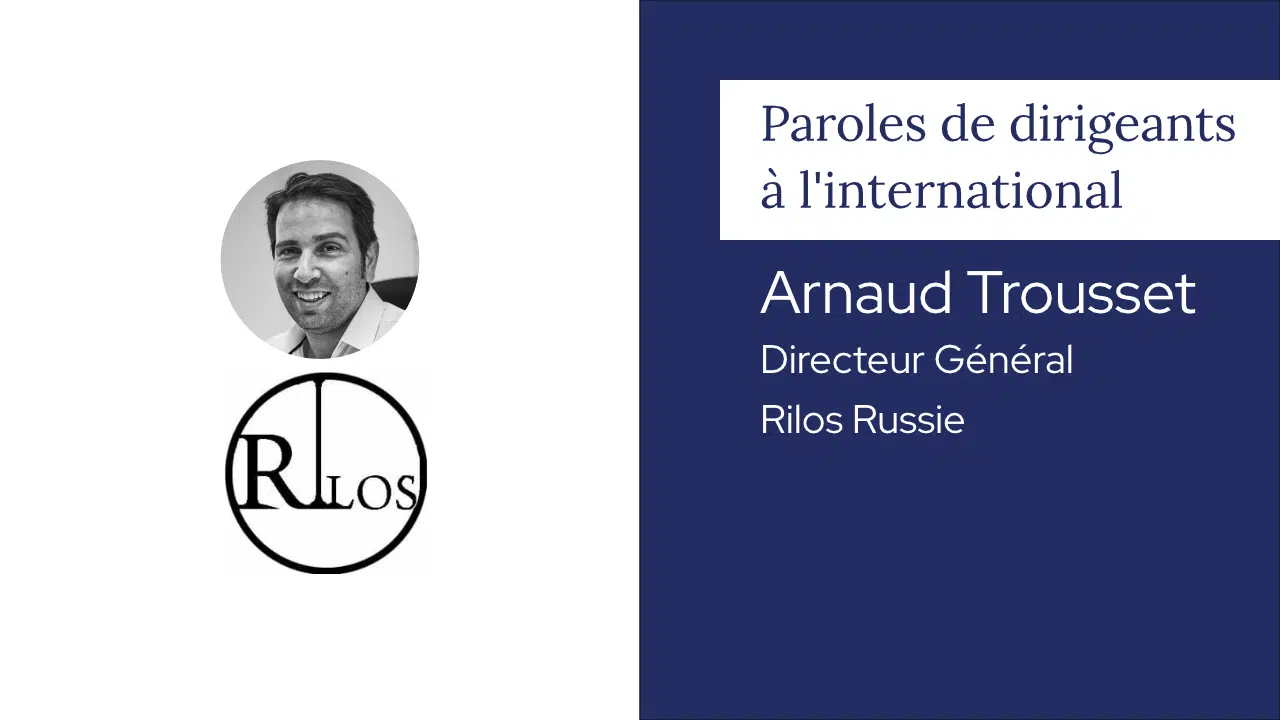 « En Russie la crise c'est la norme » !
En Russie depuis 14 ans, Arnaud Trousset, président de la French Tech, a fondé la société RILOS qui accompagne les retailers russes et étrangers en Russie dans l'extension de leur réseau de distribution.
Quelques faits
2001 : Installation permanente d'Arnaud en Russie et CEI
2001-2010 : Arnaud travaille pour trois sociétés en Azerbaïdjan et Russie dans le business travel et le retail
2010: Il créé à Moscou la société RILOS — Retail Intelligence Location Solutions
2018 :
• Clients principaux en Russie et CEI :
– grandes chaînes de retail (Auchan, Zoloto585)
– opérateurs de centres commerciaux (ZelenoPark)
– consultants dans l'immobilier commercial
– partenaires revendeurs (Cushman & Wakefield)
• Équipes : 7 personnes
• Recrutements prévus en 2019 : marketing et développement
Mail : a.trousset@rilos.ru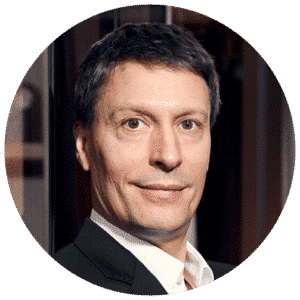 Interview conducted by Antoine Leygonie-Fialko
Open dialogue followed by an Executive Coaching session
using the CO-CREATIVE Communication® method.
I met Arnaud two years ago. Since then, I admire the tenacity with which he has worked to renew his business model as the market evolves. I invite you to discover how he was able to develop a marketing partnership strategy that now allows him to multiply leads at very low cost…
"We support our retail clients in the expansion and life of their network"
Arnaud, can you describe your activity to me?
The retail sector in Russia and the CIS is undergoing profound changes. The networks face problems of effectiveness of their marketing, loss of clientele and optimization of their establishments, due to their rapid and often poorly organized growth when the market opens. As our clients do not have sufficient hindsight or the internal skills to do quality audit work, they ask us to support them in the expansion and life of their network.
What product do you offer to your customers?
We start with a diagnosis of the network and the stores by studying why some are not working while others are profitable. We then advocate tools to automate and accelerate the expansion process. We thus reduce the process from identifying a point of sale to validating the investment decision to a single day.
Finally, we advise them on formatting types of stores, on what to move, change or even close. And we support them from their entry into a country until their eventual exit.
Our offer ranges from a global support service to a supply of technological bricks intended to accelerate or optimize one or another part of their process, which is too time-consuming, expensive or inefficient in their eyes. Finally, we implement technological tools according to their needs, their skills and their business knowledge.
How has your business model evolved?
In 2010, my business model was pure consulting. Then in response to the crisis, we invested in internal and external process automation systems to provide "long-term" SaaS (Sofware as a Service) service. These two poles, consulting and subscription, allow small bricks to fit into each other in case of more global needs.
Who are your competitors ?
Our main competitors are the internal teams of retailers who strive to identify the best sites for expansion in their network. Next come the major commercial real estate marketing and communications agencies, followed by around 20 independent companies.
Fortunately, the market is large. Russia is home to around 3,000 growing retail chains (with more than 5 stores already).
"Our job: giving meaning and value to data"
How did you create lasting and effective business relationships with local players?
We have forged partnerships in several areas.
First of all, with "field" professionals, producers of physical data, such as those who conduct consumer surveys, pedestrian or vehicle traffic surveys, "mystery shopping" whose data we integrate into our tools. We combine the cost of this service with unique offers of the "store visit" type which provide all the guarantees (verifiable data, not tampered with, investigator actually present on such and such a day at such and such a location, etc.). Thanks to our business expertise, we can effectively control these data producers and offer the added value expected by the customer.
We then have partners who produce virtual data, linked either to national statistical operators, or to operators of the "mobile phone" type or of mobile application signals. These partners sell aggregated and anonymous data within a controlled legal framework. On the virtual data side, we also use all the data that comes from open sources, such as classic Open Data, either from sources published by retailers or by real estate advertising platforms.
Our job is to give meaning, and therefore value, to the mass of raw data gathered by monopoly agents like Sberbank and telephone operators. This consists of regularly updating all this data, integrating it into our tools, combining it with our internal data and enriching it with our algorithms. This allows us, for example, to identify a point of sale that becomes available within 24 hours!
At the same time, in terms of marketing, in January we launched partnerships in the media that exclusively broadcast the content we create (RBK, Marketmedia, etc.). By publishing a new article every 4 days to a larger audience, our goal is to triple the number of our leads, at a lower cost than that of a junior-sales.
Finally, we have reseller-type partners, such as raw data producers (like Nielsen in Kazakhstan) who sell our data enrichment solutions to their clients, or marketing agencies and commercial real estate agencies, who are suffering. of a certain technological backwardness.
What a great development! And what are your current challenges?
Like any small company, cash flow, recruiting and acquiring new customers are our main challenges.
Specifically in marketing, I am looking for chatbots to conduct digital communication with my new leads allowing me to set up a phone call with a real person. Unfortunately I have yet to find a provider who knows how to interface chatbots with Facebook or LinkedIn due to the limitations of the proprietary APIs and I plan to hire someone part time.
"Difficulties in Russia: Understanding the Context"
What advice would you give to a foreign leader who would like to develop a business in Russia?
To start a business in Russia that does not require a specific license, the challenges are the same: growing customers, team and cash flow at the same time. You just have to UNDERSTAND THE CONTEXT, which is special.
For example, for recruitments, I use social networks. To find our specialist executives, I use the site hh.ru.
Arnaud, what are your recommendations for a newcomer to Russia?
When arriving in Russia, I would tell a newcomer not to hesitate to go for the must-sees:
The economic services of the embassy and consulate; the Franco-Russian Chamber of Commerce; the MEF (House of French Entrepreneurs); the AEB (Association of European Business); the French Institute
And of course, French Tech. We are organizing several industry events there this year to meet peers or prospects. The information is scattered today. Create a portal that aggregates all this information, here is a good business idea for a newcomer!
For French-speaking relocation assistance, I recommend Welcome Abroad and of course afisha.ru for outings!
"To work in Russia: be multi-pass! "
Tell me, in your opinion, what qualities a foreign leader must have to be successful in Russia?
LANGUAGE first. Starting a company is very easy, but coming without speaking Russian is a big handicap.
ADAPTABILITY: Everything changes very quickly here. What was true for business yesterday is no longer true. And what is true today will have to be questioned tomorrow. The customer's needs, their process and their type of purchase are constantly changing. Russia is therefore not a good development ground for someone who is too rigid or litigious.
CULTURE: on the surface Moscow looks a lot like other Western capitals. In depth, there are real differences, such as the perception of time or of a contract that is of no value to some!
PATIENCE: launching a business takes much longer than initially planned and signed. In my case, deadlines and budgets have always been doubled or tripled. We must therefore know and be able to be patient.
Financial PRUDENCE: payments in installments should be avoided otherwise the last payment may not be settled, the ideal being to be able to impose 100% in prepayment, the first installment covering all costs and the second installment being a bonus possible. It is essential to be firm on this because some have bit their fingers, such as start-ups that offered free pilots.
In short, how do you do business in Russia?
In Russia the crisis is the norm, hence the importance of adaptability. It is therefore necessary to be "multi-pass", that is to say "multiple" key, master key!
Look at an Executive Coaching session using the CO-CREATiVE Communication® method
Arnaud, a word on this working session?
Thank you, Antoine, for this co-reflection session. You have a human vision of business, which allows time for the spoken word to be expressed and allows essential priorities to come to the surface …
Interview by Antoine Leygonie-Fialko.

ANTOINE LEYGONIE-FIALKO
International Executive Coach and Consultant
Antoine Leygonie-Fialko is an International Executive Coach, ICF certified at PCC level, specializing in supporting international leaders "Towards CLEAR, CALM, CARING and POWERFUL thinking".
He is the founder of the CO-CREATiVE Communication® and the company CADRAN which operates globally. Previously, he managed 7 companies, from start-ups to corporate, in France and internationally (Europe, Asia, America, Africa), in various industries (construction, architecture, internet, HR…).
Today, with more than 2,000 hours of Executive Coaching, he works remotely with international leaders and their teams who want to unleash the power within their singularity in front of strong challenges requiring them to get out of their comfort zone & known mental frameworks.
My latest articles
More about me