Intercultural management for executives in Russia
Conference at the Moscow French CCI: "The keys of Intercultural management in Russia"
The keys to intercultural management for leaders in Russia
Management interculturel pour les dirigeants en Russie expliqué par notre Coach à Moscou.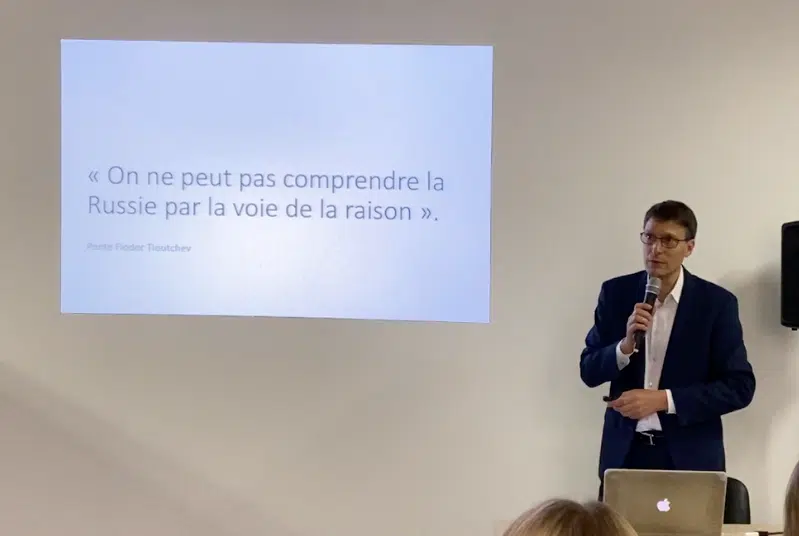 Intercultural management for leaders in Russia explained by our Coach in Moscow.
The fruits of CADRAN's cooperation with the Moscow CCI FR & the Kondratieff Circle to welcome new expatriates
This Tuesday, September 29, Antoine Leygonie-Fialko intervened as International Executive Coach at the France-Russia Chambers of Commerce and Industry (CCI FR) in Moscow. The theme of the conference entitled "The keys to intercultural management in Russia" was intended, in this particular context, for French expatriates new to the Russian market.
With a wealth of experience in Russia, Antoine delivered essential keys to intercultural management for leaders in Russia. Succeed in taking up a position, managing & understanding your teams in a strong intercultural context. What can you do to show your approval or disapproval to your employees? How to motivate your team? What hierarchical relationship to maintain with his equals or his subordinates? All these questions were presented by our coach to the various executives and directors present in the room.
In general, Russia often deceives expatriates with their very marked European environment in their capital. Yet the contrasts, codes and values ​​within the business world are quite distinct. It is up to you to be informed as quickly as possible.
Many thanks to the staff of the France-Russia Chambers of Commerce and Industry as well as to the Kondratieff Circle for the joint organization of this conference. Welcome to Russia!