Webinar – Workshop on diagnosis of manager performance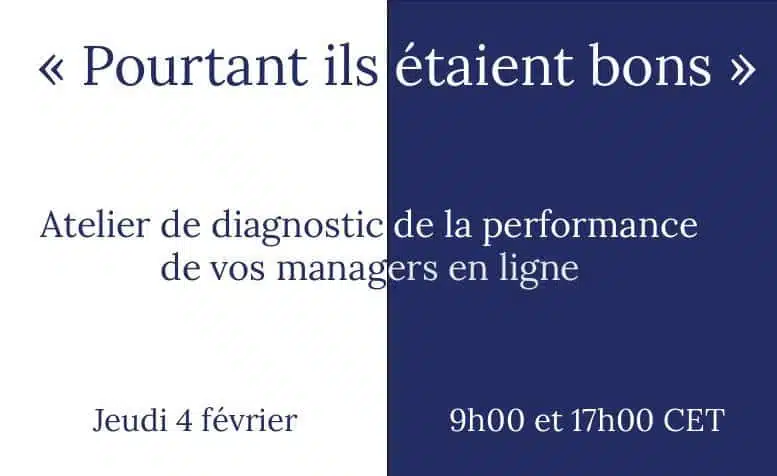 A webinar to improve the performance of your online managers
Because it's time to turn difficulties into an opportunity! Antoine Leygonie-Fialko (International Executive Coach & Consultant) and Christian Malissard (Executive advisor) will host this special webinar dedicated to managers in France and abroad who wish to improve the performance of managers online (in two time slots 9h CET and 5 p.m. CET).
With a third confinement looming, the health and professional situation should not return to normal before 2022. It is therefore imperative for business leaders to revitalize their managers and their teams, to reconnect with the entrepreneurship, the human nature of the relationship at work, not to mention performance and the achievement of objectives.
During this webinar, the following themes will be addressed: knowing how to be inspiring for your teams, managing remotely, restoring a human character to work and many other challenges.
It is necessary to found a new balance between the role of manager and that of parent. Between work at home and that at the office. Rediscover the importance of human relationships, but also the challenges of physical health and psychological balance. Antoine & Christian have both developed a unique method to revitalize the teams within the Best Online Manager.
They will show you how to improve time management, urgency and priorities, but also the efficiency of meetings, as well as the clear distribution of work as well as innovative ideas such as the publication of a telework charter.
Registrations are made by clicking here.
QUENTIN DUPUY
International Executive Coaching Agent
Coaches Agent at CADRAN.
Do you want to put more humanity in your organization? Benefit from tailor-made coaching? A new wind or leverage in business?
• Would you like to know more about the profiles of Cadran coaches?
• Do you want to identify the support that will suit you best?
• You would like to be referred to the coach who best matches your
problem ?
Just make an appointment with me. I will be able to direct you to the coach who best matches your profile and your problem.