Patrick Font, General Director Mexico, Zurich Insurance
International Executive are speaking
The keys to international business success
Patrick Font, ex-General Director Mexico, Zurich Insurance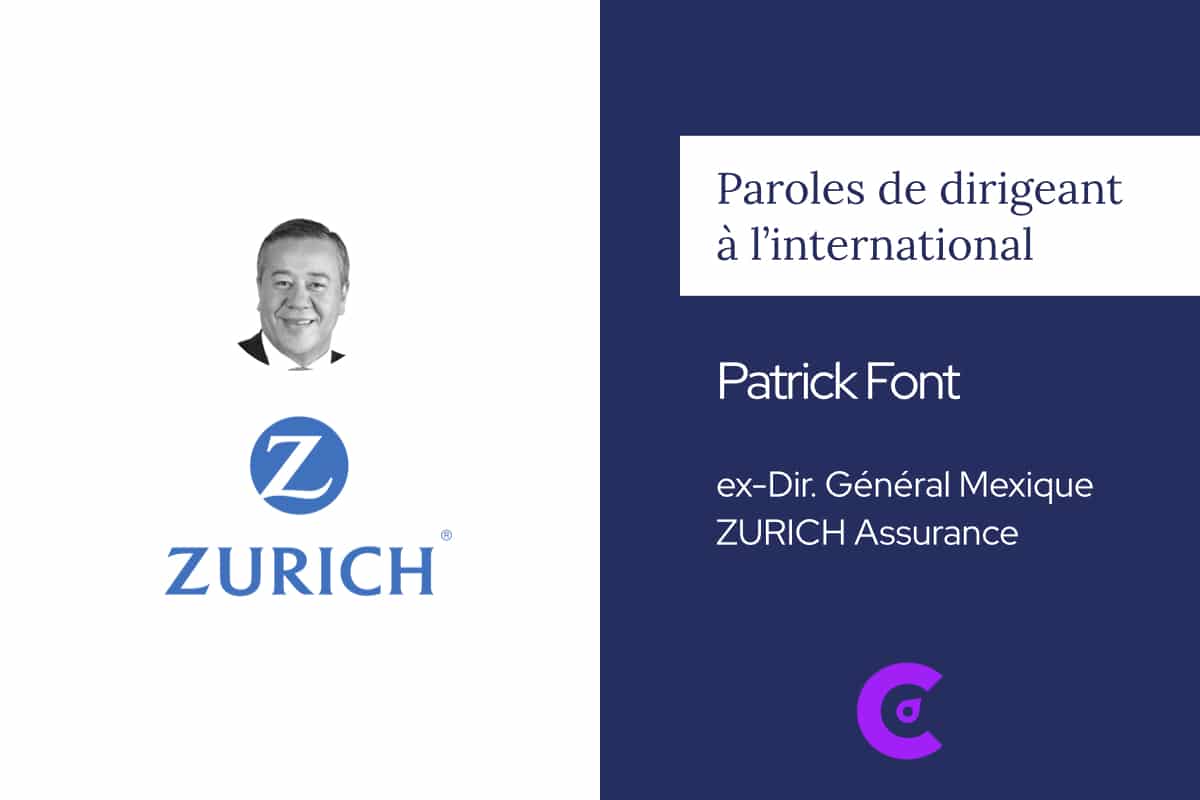 "Spiderweb Leadership Generates Better Results"
Patrick Font's international career began in Spain with a short-term mission at AXA which, for 20 years, offered him expatriations in the United States, Italy, Singapore and finally Mexico where he decided to leave AXA. for Zurich Insurance…
Some facts
1998 : AXA Italie – Directeur du département Actuariat P&C – Actuaire en chef P&C
2002 : AXA – DG régional pour l'Asie du Sud-Est
2007 : AXA MPS Assicurazioni Danni SpA (Italie) – Directeur général
2012 : AXA Mexique – Directeur exécutif des branches d'activité assurance P&C
2019 : Zurich Seguros (Mexique) – Directeur général
Mail :  patrickjfont@gmail.com


Interview conducted by Antoine Leygonie-Fialko
Open dialogue then Executive Coaching session
according to the CO-CREATiVE Communication® method
I met Patrick through his wife, Laurence, COO of BNP Paribas Mexico. I immediately understood that we had in common a passion for exploring cultural differences. I am full of gratitude to Patrick for introducing me to the book "Culture Codes" by Clotaire Rapaille which subtly explores this vast subject…
"The contrast between management types internationally offers new perspectives"
How are your first years of international experience going?
My experience as an international actuary began in Spain, where I stayed for six months, and continued in Italy with a mission also lasting six months. During my first year of work, I am learning to be flexible, both personally and professionally, as I am called upon to manage many unforeseen events. In addition, I learn to quickly develop the ability to adapt to the demands of the job and to work according to priorities.
Subsequently, my company decided to assign me to the United States as a CSNE (Cooperant au Service National en Entreprise). On site, I discovered a rapidly changing country and a very demanding professional environment in terms of years of experience, practical internships, sponsorship and certification. After a year and a half, the management of my company offered me a permanent position within a young and dynamic team. This work environment gives me the opportunity to experience the American leadership to which I completely adhere. Unlike the much smaller companies in which I had worked in Spain and Italy, this environment presents a leadership that is characterized by a management of proximity in an impressive naturalness.
What struck me the most was the recognition and attention of the leaders towards the employees and their ease in applying the principles of meritocracy.
What do you remember from your stay in Italy?
After three years in the United States, followed by three years in France at AXA's headquarters, I applied for a sedentary position and my management offered me to go to Italy or Spain. In 1998, I made the choice to settle in Milan to lead a team of seven people from different backgrounds, for a period of four years. I discover the art of management there and manage to establish a leadership in opposition to the very hierarchical local rules. Indeed, I develop an understanding with my team, from which an atmosphere of camaraderie is generated, while maintaining the necessary seriousness in the work.
I begin to position my accompanying personal leadership by listening to my team members and exploring what they have to offer; which is completely new and contrary to the very hierarchical Italian management, in a context of family economic fabric.
And it is thanks to this effect of contrast between the types of management that I am gradually realizing the strength of American leadership.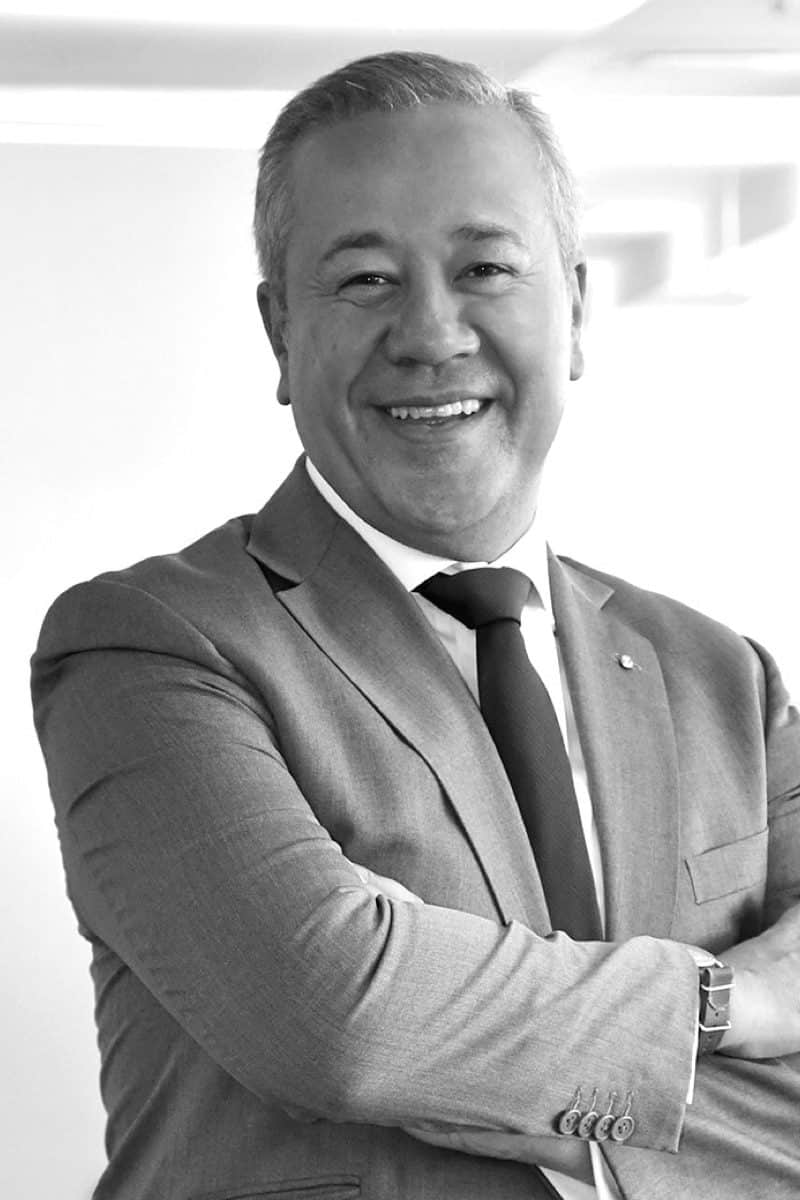 "Making difference accepted, one of the most beautiful results"
Patrick, what is special about your stay in Asia?
In Singapore, all the means are there to be able to give the best of yourself, from the ease of obtaining visas to settling in. I arrive for a regional mission in Asia and am in charge of the single technical department and the operational department. The first thing I learn is the unique method that my boss uses in managing teams from different Asian countries.
With the aim of limiting expenditure, the latter has set up a matrix structure within which country bosses are also bosses of regional cross-functional functions. The boss of a country is of course the brand ambassador in a country. He is responsible for developing relations with the market and local authorities. He also plays an observer role during end-of-year evaluations. Its business card presents two functions, namely those linked to local and regional responsibilities.
In addition, I learn a new way of organizing the company, especially when a constraint combines the multiplicity of countries and cultures, and the small size. I am inspired by an "inverted" matrix model which allows me to give more weight to the regional functional dimension than to the local dimension.
I become one of the key elements of this model, being both CEO in Singapore and responsible for several regional functions. I am moving into a managerial role with a staff of 700 under my responsibility and learning to reinforce other leadership themes, in particular learning to listen.
How did you approach the collaboration with Thai people?
As part of my position as Managing Director of South East Asia, I had the opportunity to manage Thai teams. Thais are extremely proud people – especially of the fact that they were never colonized. In addition, they do not show the need to open up to the rest of the world. Working for a foreign box established in Thailand represents a real challenge. The level of English is generally low and you have to go beyond listening to understand them and overcome language barriers. They are introverted people who need time to be understood.
In Indonesia, people behave quite similarly. I realized that it is necessary to value what they have in their country while bringing new images and experiences, including those that we have collected and experienced in other places. One of the greatest results an Executive Director can achieve is to make his employees accept the difference.
Based on my experience, I can say today that "star" leadership, which consists of directing employees from the center, is less satisfying and less effective than "cobweb" leadership, which allows each to influence the other directly.
"Behind every challenge is a lesson"
What new things do you learn when you return to Europe?
After Asia, I receive a job offer for Rome. I accept it with the ambition to return to Europe, but also with the objective of leaving Singapore, which is a harsh environment in terms of personal development. As a result, I moved back to Italy, to Rome this time, with an incredibly warm entourage. I learn a new business model, working for the first time in relation to a bank.
Indeed, the group for which I work has just acquired a majority share in a company that until then was 100% owned by a very traditional bank, therefore with a rather retrograde management style. I choose not to see this situation as a step back, but as a challenge, especially since all the elements are there to change the situation.
Managing this challenge made me realize that anything is possible, especially since as a leader, I had never faced such a situation, such a context. I also learn the importance of QUESTIONING in the sense of EXPLANATION TO GIVE and I gradually discover the importance of leadership in the success of a RADICAL CULTURAL TRANSFORMATION. And any changes I make within the box will ultimately impact the bank itself.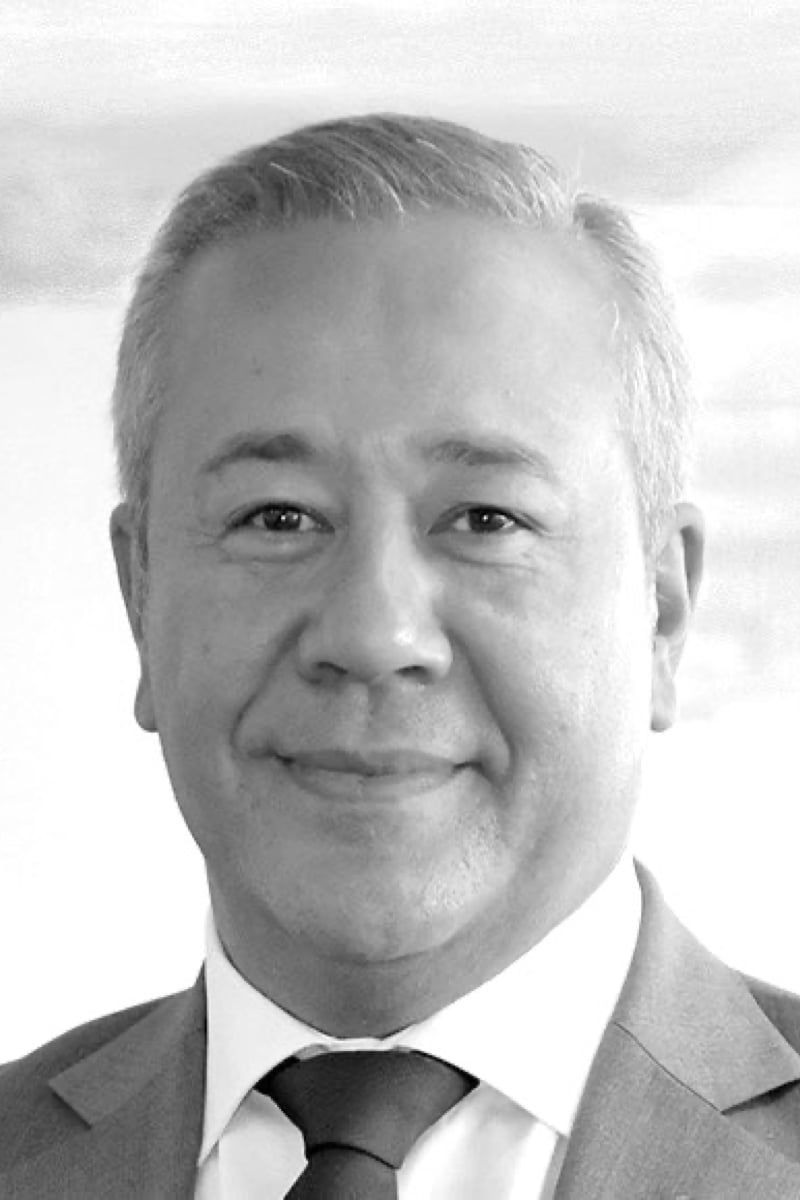 "Create a friendly working atmosphere to achieve better results"
What behaviors have you adopted to optimize professional relations in Mexico?
After seven years, I have the opportunity to go to Mexico. I arrive in a box with two other French people who came directly from France. After two months, I am getting positive feedback from Mexicans about the speed of my integration. This adaptation was, in my opinion, facilitated by the many commonalities between Italian and Mexican cultures, including a tendency to "not worry about tomorrow".
In terms of leadership, there is a whole vocabulary that should be appropriated to resolve a certain number of situations. We have to manage to play on AUTHENTICITY so that the people we work with get involved in the best possible way.
I find a very family economic fabric and notice that people have this tendency to confuse the role of the leader and that of the owner of the company. For example, employees consider raises as a kind of favor from the boss – assimilated to the owner – even if it is not necessarily a family box. This situation leads me to strengthen my CONCERN FOR TRANSPARENCY and pushes me to make myself better known by the people I work with. To do this, I spend a lot of time with them and regularly organize breakfasts or coffees with groups of around twenty employees. I also focus on the BEHAVIORAL ASPECT because, beyond these meetings, the main job is to know how to COMMUNICATE with employees, create a CONVIVIAL ATMOSPHERE and above all LEAD BY EXAMPLE.
What advice would you give to a young person looking to embark on an international career?
The first thing that comes to mind is to tell this kid to go for it, but do it for "good" reasons. The example of an acquaintance who has launched and succeeded should not – for example – be a sufficient trigger. The question he should ask himself is whether he will have the ability to adapt to the culture of his host country. It is also very important not only to know where we are going, but also to know where we come from and who we are. Because if the person who wants to embark on an international career is an adventurer, they will be better able to acclimatize to new environments and therefore they will have fewer difficulties in an international career, regardless of the country.
A look at an Executive Coaching session using the CO-CREATiVE Communication® method
Patrick, a word about our Executive Coaching session?
For me, coaching is like personal and professional gymnastics that helps me progress. The life of a leader forces us to focus on others, and in this movement, we sometimes forget ourselves. However, coaching allows you to reposition yourself at the center of your own life. Thank you Antoine, for your kindness and your active listening which allowed me to be natural and authentic with you, then helped me get back to the essence of things.
Interview by Antoine Leygonie-Fialko.

ANTOINE LEYGONIE-FIALKO
International Executive Coach and Consultant
Antoine Leygonie-Fialko is an International Executive Coach, ICF certified at PCC level, specializing in supporting international leaders "Towards CLEAR, CALM, CARING and POWERFUL thinking".
He is the founder of the CO-CREATiVE Communication® and the company CADRAN which operates globally. Previously, he managed 7 companies, from start-ups to corporate, in France and internationally (Europe, Asia, America, Africa), in various industries (construction, architecture, internet, HR…).
Today, with more than 2,000 hours of Executive Coaching, he works remotely with international leaders and their teams who want to unleash the power within their singularity in front of strong challenges requiring them to get out of their comfort zone & known mental frameworks.
My latest articles
More about me