Romain Bordenave, Founder, Executive Director, Grupo Irena
International Executive are speaking
The keys to international business success
Romain Bordenave, Founder & Executive Director, Grupo Irena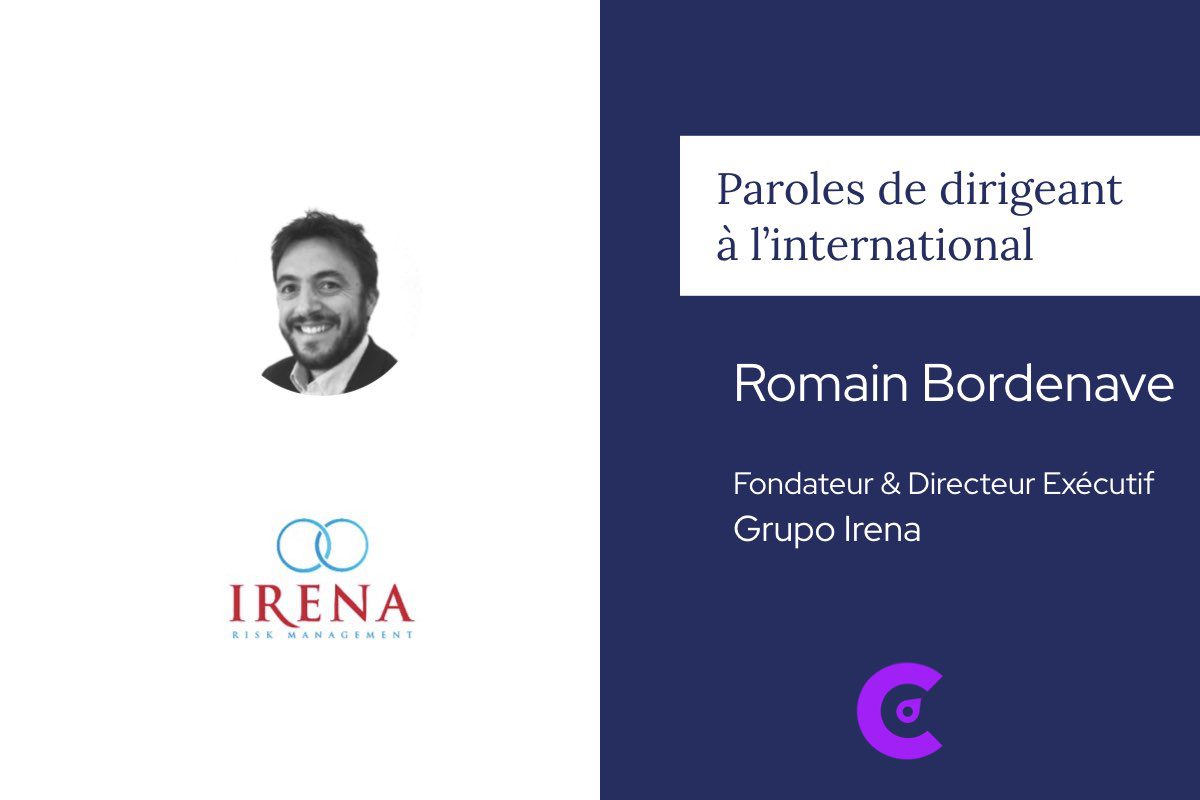 "By insisting, anything is possible"
Romain Bordenave arrived in Mexico City in 2008. Since 2011, he has continued to grow his own company, Irena. He reveals to us all that he has learned…


Interview conducted by Antoine Leygonie-Fialko
Open dialogue then Executive Coaching session
according to the CO-CREATiVE Communication® method

While developing Cadran's business in Mexico, I met Romain, whose LinkedIn profile appealed to me. I was immediately captivated by his taste for people and adventure…
"The key: to quickly have a good reading of the situation"
Romain, what does your company offer?
Irena is a consulting and security services company, it supports companies on land with sensitive security conditions so that they can work peacefully despite a degraded environment. When a company carries out a mission or deploys its activity abroad, it may be confronted with various risks related to local criminal activities, the political, economic and social situation, the geopolitical situation or even environmental or health crises. In Latin America, for example, the risks associated with organized crime and petty crime are numerous and can directly affect the security of projects or people: fraud, corruption, piracy, racketeering, assaults and even kidnappings to name a few. -ones.
Our role is to support our customers so that they can work normally despite these risks. If we are requested before or at the start of the deployment of a project, we carry out a risk analysis which will allow us to know in depth the area of ​​operation and the risks related to the activity. This allows us to offer a device that is adjusted as closely as possible to the need while limiting costs as much as possible. Sometimes we are called upon during a crisis or in response to an incident, so we must be extremely agile and offer the client support that is immediately effective in stabilizing the situation and returning to normal.
Our solutions can include a multitude of tools: physical security measures, the implementation of technological solutions, procedures or the deployment of security teams and consultants who will accompany the client on the ground to relieve him of the security of its activity.
For example, we took care of the construction site of a wind farm in northern Mexico, on which we worked for 18 months. After a risk analysis, we implemented a security policy on the site led by a Security Manager who supervised our teams and supervised the implementation of security solutions. The latter also had to manage a few incidents and adapt the system to the vagaries of the context and the operation so that our client could operate and deliver the site on time.
Here is a second example, this time supporting classic corporate back office activities. Recently we intervened for a company that has a dozen expatriates in Mexico City. Our role was to ensure that the security conditions were met so that they could work and live peacefully with their families. We have therefore implemented a series of simple actions such as security assessments of their homes, awareness of the risks in Mexico and the right behaviors to adopt and finally 24/7 assistance that they can activate in case of problem.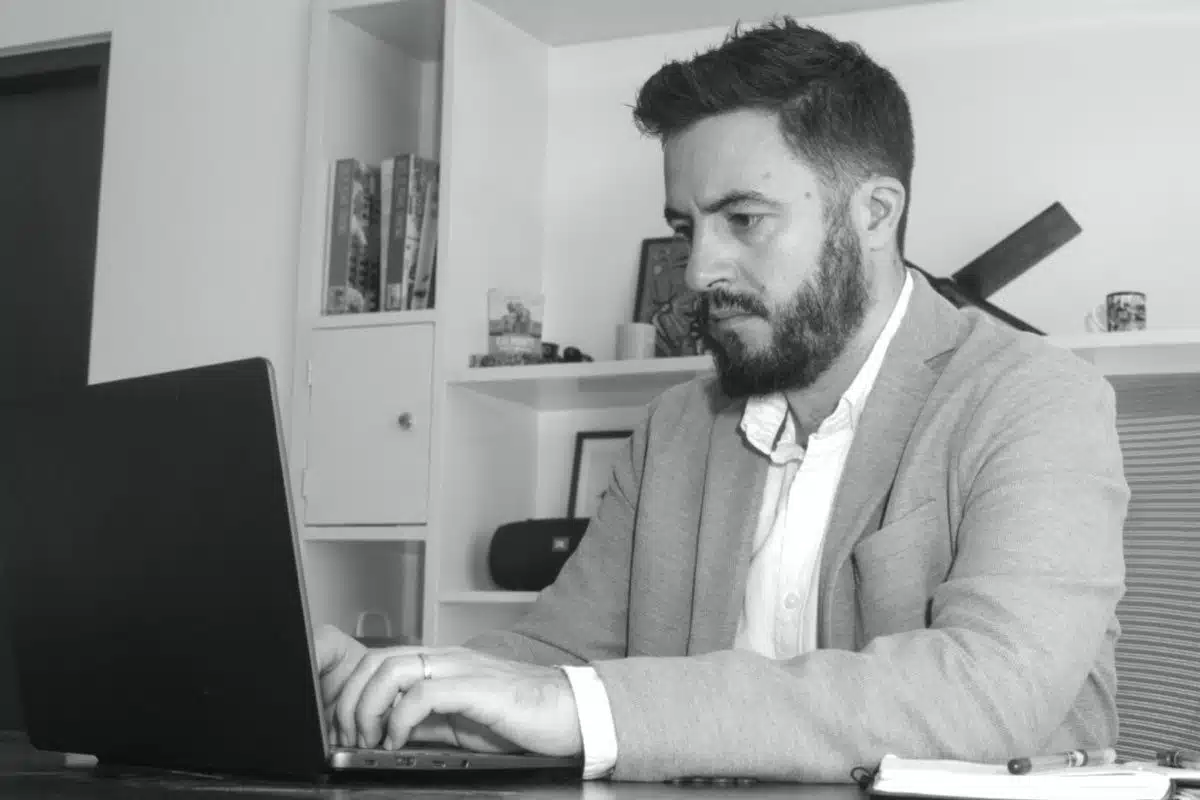 "The big gap to be both corporate and on the ground"
And who are your customers?
We mainly have two main categories of clients: international institutions – or diplomatic representations – and private companies.
In Mexico, we work with the delegation of the European Union, the embassies of France, Belgium, the Netherlands, South Korea… We also support the delegation of the European Union in Ecuador and Colombia. For us, contracts with diplomatic representations represent a strong showcase because these demanding customers apply a draconian selection of their suppliers. They are a strong guarantee of our solidity.
Our Corporate clients are generally large French, European or North American groups. By nature, the latter have high security standards for their expatriates and activities. They need support to ensure the safety of people, their site and their assets, then to be supported in the event of a crisis.
From time to time, we also work with ETIs. The latter rather need us during field missions. They will rarely deploy large structures that may need day-to-day security. On the other hand, they often have to set up teams to fulfill missions in delicate areas. In this case, our role is to provide them with the relevant information for decision-making and to put in place the necessary support.
Romain, how do you stand out from your competitors?
With Irena, we were able to occupy a place that was missing in the sector. Between on the one hand the historical security groups which have their headquarters in France and are recognized even if they depend on local service providers for the execution of their mission, and on the other hand the local security companies. These have a lot of operational means but they can err due to a lack of maturity or reliability. They are also unable to provide the advice that customers systematically need.
Today, large groups are asking their suppliers for ever more guarantees. They want to speak with solid service providers able to meet ethics and compliance requirements and they also need agile suppliers able to find a quick solution with a minimum impact on costs.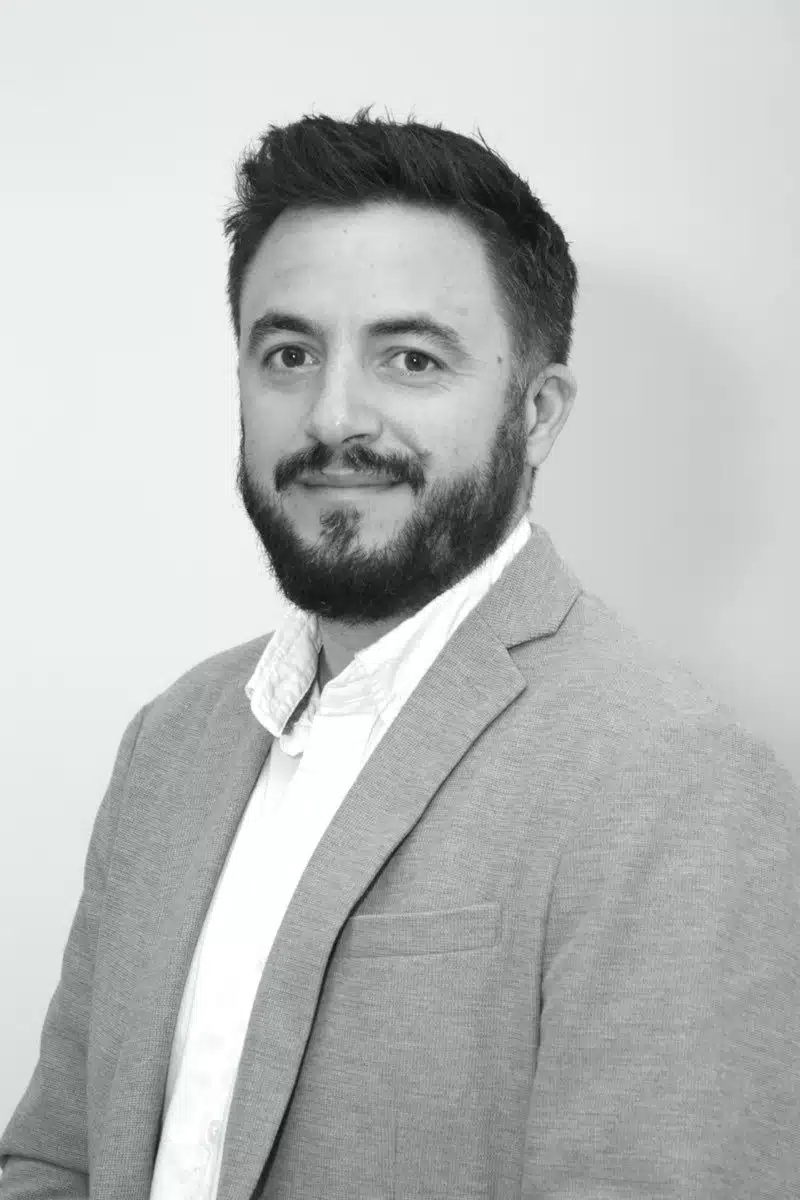 "Recruiting: Choosing only soft-skills"
How did you manage to recruit and retain your team?
For the most technical profiles that will be deployed in the field, we call on the network. The human dimension of our missions is extremely important. You have to evolve on complex, often hostile and constantly changing terrain. It is important for us to find the right person for the mission and for this kind of profile it is rare that we publish job offers. The network allows us to unearth potential collaborators through recommendations or cooptation. We do not take the risk of working with a profile that does not present guarantees.
To retain these profiles, we are careful to maintain a good relationship and remain very human. We are lucky to have all been through this kind of position and to understand the difficulties. We are careful to support Security Managers well during their missions to prevent them from getting tired or "burning out" because some operational contexts are exhausting. To retain them, we must precisely know how to let them go on other assignments, get some fresh air, see the country, sometimes even with other employers and maintain a good relationship so that they are ready to come back to work with us when the opportunity will present itself.
For project management positions, there are no prior studies that would really make the difference. In this situation, we took the gamble of training young people in the field who know how to think, write and synthesise. We take on juniors on the basis of their soft skills and help them evolve by gradually confronting them with our various missions.
Their loyalty is complicated because they are generally impatient. In addition, we are confronted with the reality on the ground: we cannot anticipate the missions that the clients will entrust to us or their timing.
Now, what are your challenges Romain?
Our current challenge is to extend our internationalization. From the start, our group was international. We are both French, with a subsidiary in France, and both present in Mexico, Colombia, Ecuador, Panama and now in Africa and India… In this configuration, we have already worked on all the Latin American countries. Now our challenge is to establish ourselves on a long-term basis on other continents. We already work punctually in Africa, it is important for us to be able to settle there and reproduce what makes our success.
This also implies more robust corporate governance, more in line with our international ambitions. We are working on it.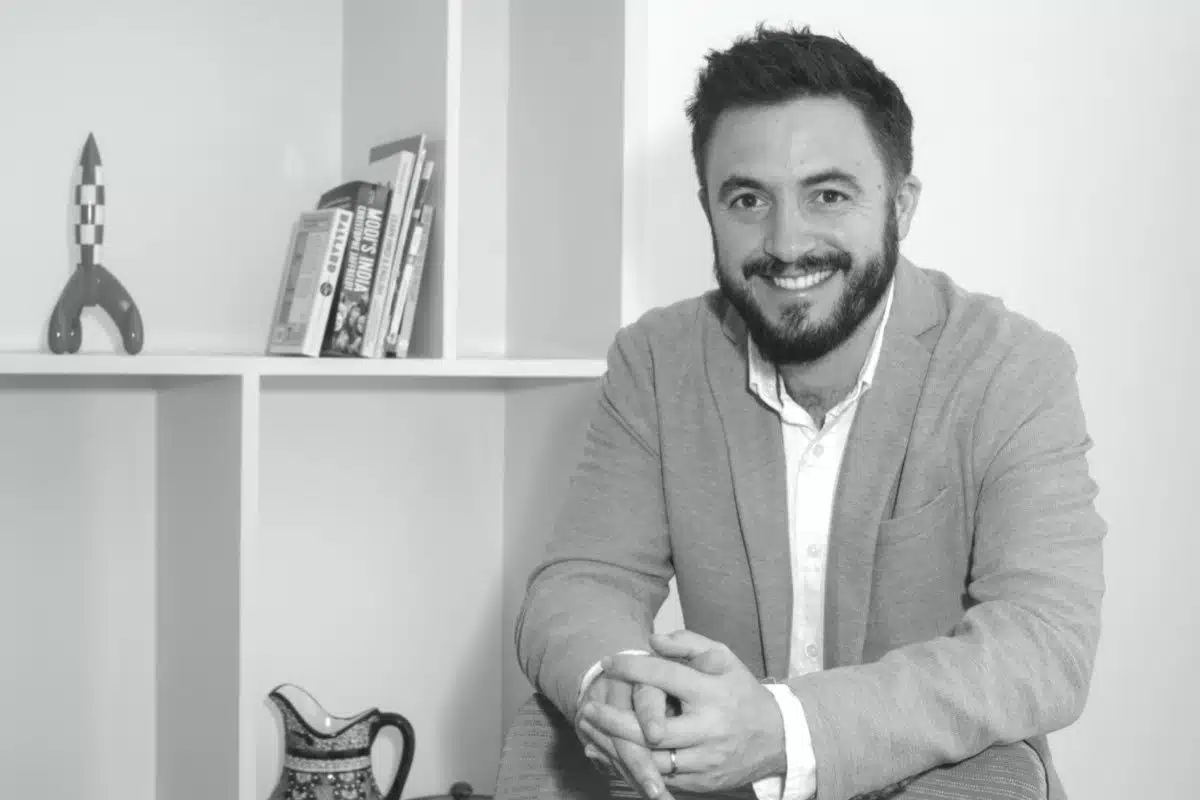 "I've seen young entrepreneurs ignite"
What advice would you give to someone who wants to settle in Latin America?
I would say that to be successful in Latin America, the entrepreneur must be, at least initially, very close to the teams and to all the operations, to have a "hands-on" attitude. It is important to constantly put your hands on your feet and supervise everything. By delegating too much or trusting too much, the expatriate risks allowing mistakes to be made and having surprises which, at the start of an entrepreneurial adventure, can have serious consequences.
Then I would say that you have to be AGILE and show a form of EVERYTHING. To start a company here, an expatriate entrepreneur must be convinced that "you have to do it, you have to believe in it, go all out" and give 100%. He must live his project as a dream and not as a project that materializes on an Excel sheet. I understand the very pragmatic approaches but if there is not a strong emotional base to go and develop a company, the risk of becoming discouraged quickly is great because the pitfalls are numerous.
Moreover, one of the failure factors of an entrepreneurial project in Latin America would be to show too much OPTIMISM. In Latin America, people are rather warm and find it difficult to say no, decision-makers can quickly get inflamed. Often a meeting ends with great prospects, partnership ideas or even sometimes pharaonic projects… In this case, an excess of optimism could push you to abandon small prospects in favor of a hypothetical "contract". of the century ".
In a nutshell, how is business in Mexico?
For me, business in Mexico is summed up by the expression « Si se puede », in French, "yes, it's possible". This refers to the idea that everything is possible but that nothing is obtained without effort. I therefore recommend insisting while following your instincts. To undertake, you have to know how to explore, take risks, accept being irrational, in other words, live!
A look at an Executive Coaching cycle according to the CO-CREATiVE Communication® method
A word about your Executive Coaching experience with me?
I found this coaching useful and valuable. It allowed me to take stock of myself, and of the problem I wanted to address. I liked the way you gave birth to reflection through your attentive listening. With the necessary questioning linked to an expatriation, coaching allows a finer work with oneself and with the teams.
Interview by Antoine Leygonie-Fialko.

ANTOINE LEYGONIE-FIALKO
International Executive Coach and Consultant
Antoine Leygonie-Fialko is an International Executive Coach, ICF certified at PCC level, specializing in supporting international leaders "Towards CLEAR, CALM, CARING and POWERFUL thinking".
He is the founder of the CO-CREATiVE Communication® and the company CADRAN which operates globally. Previously, he managed 7 companies, from start-ups to corporate, in France and internationally (Europe, Asia, America, Africa), in various industries (construction, architecture, internet, HR…).
Today, with more than 2,000 hours of Executive Coaching, he works remotely with international leaders and their teams who want to unleash the power within their singularity in front of strong challenges requiring them to get out of their comfort zone & known mental frameworks.
My latest articles
More about me